Noel Vermillion is a major character from the BlazBlue series, first appearing in BlazBlue: Calamity Trigger.
Noel is a lieutenant in the Novus Orbis Librarium, a miltaristic organzation that rules the world. She is a graduate of the Military Academy and is sent to escort Jin Kisaragi back to Headquarters. In BlazBlue: Continum Shift it is revealed that Noel is an artifical human that was cloned from the Imperator Saya to be a biological and cybernatic weapon. Not much is known about her early life with the exception of being rescued from Ikaruga and being adopted into the Vermillion family.
In M.U.G.E.N, Noel Vermillion has been made three times.
Speedy9199's version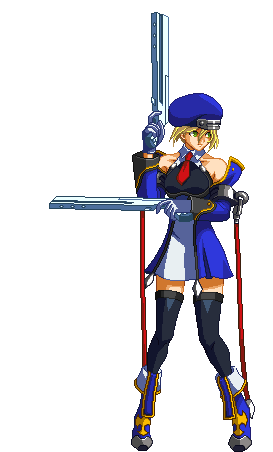 Noel's A.I. is really rapid and merciless and will knock out an opponent in a matter seconds. This version of Noel will utilize her combos most of the time in combat. Noel's moveset consists of her gun Bolverk, gun projectiles, and chained attacks. Noel's Chain Revolver can pin a character for a bit due to the chaining attacks. As with all of Speedy9199's BlazBlue characters, they come with a mode select that can be selected during the intro; "Attack Up" increases attack power but causes Noel to take more damage when hit, "Defence Up" increases defence but decreases attack, "Normal" balances Noel's stats out, and "Life" greatly increases attack but causes Noel to automatically lose the round once her Life is 300 or less. 
Stats
Movelist
Hovering the mouse cursor over the Command Input icons will display text that refers to the inputs set in M.U.G.E.N's Key Config.
Icons encased in square brackets [

] require the respective button(s) to be held down. Hovering the mouse cursor over the icon displays the hold duration if applicable.
Specials
Optic Barrel- D,DF,F A
Optic Barrel- D,DF,F B 
Optic Barrel- D,DF,F C 
Silencer - D,D b (c)   *press c repeatedly for 5 more shots (ground only)*
Chain Revolver:
To start Chain Revolver combo you must press one of these commands
Then you may press any of these command by to keep the combo going, you must press right after the hit.
This combo has a limited amount of time.
A
B
C
F,A
F,B
F,C
D,DF,F Z
D,DB,B Z
F,D,DF z
Hypers
Thor-'  D,DF,F,D,DF,F z  (uses two power bars or more in air)
Fenrir-  D,DF,F,D,DF,F z   (uses two power bars or more on ground)
Astral Heat-' 'D,DB,B,D,DB,B a   (uses three power bars or more and life is under 500) 
Palette Gallery
| | | |
| --- | --- | --- |
| | | |
| 1 | 2 | 3 |
| | | |
| 4 | 5 | 6 |
| | | |
| 7 | 8 | 9 |
| | | |
| 10 | 11 | 12 |
Videos
Ad blocker interference detected!
Wikia is a free-to-use site that makes money from advertising. We have a modified experience for viewers using ad blockers

Wikia is not accessible if you've made further modifications. Remove the custom ad blocker rule(s) and the page will load as expected.