Mr. Fantastic
Talk

0
4,229pages on
this wiki
Mr. Fantastic

Mr Fantastic

Creator(s)

ZVitor

Download

Origin

Fantastic Four

Mr. Fantastic (Reed Richards) is a marvel comic book character and the leader of the Fantastic Four. He has a genius level IQ and the power to stretch his body around like rubber. He is married to the Invisible Woman, but the two sometimes have trouble keeping their relationship together.
In M.U.G.E.N he was made by ZVitor.

Mr Fantastic is a six button character made with custom sprites. He uses the MvC EOH character template, like most chars made by IMT. His limbs stretch to hit the foe like Dhalsim.
His AI is moderately weak, but still very noticeable. The A.I. utilizes the character's projectiles when the player is far away to deny approach, and will also attempt to knock the player or opponent away from them frequently. If up close and not forcing the opponent back, the A.I. will usually use Propeller Arms for a moment to chip away at the player/opponent's health before shoving them away.
Life: 1000
Power: 3000
Attack: 100
Defence: 100
Hovering the mouse cursor over the icons will display a more direct activation method akin to how the move activations are coded; this is what the following key/legend represents.
Key
D = Down
F = Right
B = Left
U = Up
DF = Down-right
DB = Down-left
UF = Up-right
UB = Up-left
a/b/c = Kick
x/y/z = Punch
s = Taunt
Icons encased in square brackets [
] mean for the respective button(s) to be held down.
Name
Command Input
Properties

Propeller Arms
and to move while doing the attack
to move arms up
to end move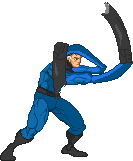 Name
Command Input
Properties

| | | |
| --- | --- | --- |
| Stretch Strike | | Distance varies with button pressed |
Name
Command Input
Properties
Name
Command Input
Properties
Name
Command Input
Properties
Name
Command Input
Properties

| | | |
| --- | --- | --- |
| Bungee Punches | | uses 1000 power |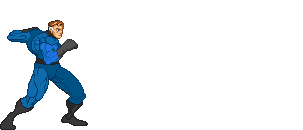 Name
Command Input
Properties

| | | |
| --- | --- | --- |
| Pinball | | uses 1000 power |

Name
Command Input
Properties

| | | |
| --- | --- | --- |
| Orbital Strike | | uses 1000 power |
Name
Command Input
Properties

| | | |
| --- | --- | --- |
| Fantastic Blitz | | uses 3000 power |
Palette GalleryEdit