| | |
| --- | --- |
| | HOLD ON! This article contains information about a W.I.P. character or a pre-release beta. More info will be posted as soon as it comes to light. |
Mordecai is a fictional character from the Cartoon Network show, Regular Show. He had first appeared in The Pilot which first came around in 2009, although the first time he was seen on TV was on the first episode of the show, The Power.
He is a 23-year old bluejay who works and lives at the park alongside his friend Rigby. While a slacker, he is still more responsible than his raccoon friend. He spends most of his time playing video games and goofing around with his buddy. His boss, Benson, often threatens to fire him if he doesn't get his job done. He's in love with a robin, Margaret, who works at a coffee shop. Despite being a bird, he cannot fly.
In M.U.G.E.N, Mordecai was made by Ivan Luiz, MarioAction494, and MadOldCrow1105.
Ivan Luiz's Mordecai
Edit
Before FelixMario2011 announced the creation of his Mordecai, Ivan Luiz had already made one. This version of Mordecai is a spriteswap of Poisonberry, his sprites are poorly drawn, he is missing sprites and his attacks are overpowered. He said he would remake it, but it is unknown if this is true now since Madoldcrow1105's Mordecai was much better received by the community, and more commonly used. It is a spriteswap of unknown creator's Brian Griffin.
Madoldcrow1105's version
Edit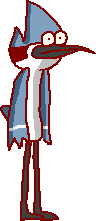 A more recent version of Mordecai, it features references to its source material and incorporates a Marvel vs. Capcom style of gameplay. Some of its move commands are complex, so it is best left in the hands of an experienced player.
Dchan250's MvC Mordecai Edit
Edit
A wikia user named Dchan250 released a new edit on May 1st with some different sounds and effects, (such as more MvC gameplay like MvC hyper backgrounds and sprite editing to give it more of a feel of an MvC type character.) Dchan250 made Mordecai's toon palette as his default one. On June 4, 2012, he finally updated his MvC Mordecai, including a new palette originally in Madoldcrow's old Mordecai.