Mordecai is a fictional character from the Cartoon Network show, Regular Show. He had first appeared in The Pilot which first came around in 2009, although the first time he was seen on TV was on the first episode of the show, The Power.
Mordecai is a 23-year old bluejay who works and lives at the park alongside his friend Rigby. While a slacker, he is still more responsible than his raccoon friend. He spends most of his time playing video games and goofing around with his buddy. His boss, Benson, often threatens to fire him if he doesn't get his job done. He was once in love with a robin, Margaret, who formally worked at a coffee shop before going to a university. He then fell in love with a cloud humanoid, CJ, but eventually stopped dating her as well. Despite being a bird, he cannot fly.
In M.U.G.E.N, Mordecai has been made by Ivan Luiz, MarioAction949 and Madoldcrow1105.
Madoldcrow1105's version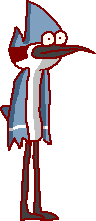 A more recent version of Mordecai, featuring references to its source material and incorporating a Marvel vs. Capcom style of gameplay. Some of its move commands are complex, so it is best left in the hands of an experienced player.
Ad blocker interference detected!
Wikia is a free-to-use site that makes money from advertising. We have a modified experience for viewers using ad blockers

Wikia is not accessible if you've made further modifications. Remove the custom ad blocker rule(s) and the page will load as expected.