HOLD ON!
There are versions of this character available that don't have their own branch articles!
Please help us document the following:
Mononobe no Futo



Creator(s)

Unknown creator
Gudine

Oldest version

Unknown version

Newest version

Gudine's version (2016)

Origin

Touhou Project
Mononobe no Futo is a taoist shikaisen from Touhou Project, who possesses the ability to manipulate feng shui. She first appeared as the boss of the fifth stage in Ten Desires and later as a playable character in Hopeless Masquerade and Urban Legend in Limbo.
Futo comes from an old era of Japan, and speaks in archaic Japanese (commonly translated as early Modern English in fan translations). She and Toyosatomimi no Miko were both taoist practitioners, but both of them praticed taoism in secret, as anyone could become a taoist hermit and therefore it lacked political power; At some point, Miko approached Futo and proposed a plan to "die" and be reborn as shikaisen after Miko pacified the nation under buddhism, to which Futo accepted.
In M.U.G.E.N, Mononobe no Futo has been made twice, with one version by an unknown creator and another version by Gudine.
Gudine's version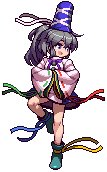 Gudine's version of Futo uses sprites and moves from Urban Legend in Limbo, and has gameplay based on RicePigeon's characters. Futo's main trait is her ability to set plates on the screen, later being able to power up or change certain attacks she possesses, as well as use the amount of broken plates to power up one of her attacks.