WARNING!
Both this article and the content documented in it contain language that may be considered offensive to some users. Continue reading and/or choose to download the content at your own discretion.
Little over a decade prior to the Touhou Project protagonists venturing into Gensokyo's underground, there was another nuclear weapon that didn't take the form of a humanoid female, but of an actual nuclear missile. Aided by her suicidal rider, Mimi-chan does what any functional ICBM was built for and launches herself directly towards the opponent, obliterating anything within the resulting blast radius in an explosive lack of subtlety.
Mimi-chan (

Ricepigeon_is_a_fucking_crackhead

)



Creator

Download

Resolution

Low
Gameplay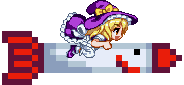 Mimi-chan is a six button joke character character whose only method of attacking is to launch herself at the opponent with either

,

, or

and attempting to make contact with them, with a successful hit delivering a
blow that also K.O.s Mimi-Chan; Mimi-chan will also explode should the opponent attack it.
While Mimi-chan uses M.U.G.E.N's default A.I., because of the nature of the character in question, it only has to randomly walk forwards or use an attack button to launch Mimi-chan at the opponent and either make contact with them or miss, at which point it will turn around after making contact with the stage boundary and randomly attempt another attack.
Stats
Movelist
Hovering the mouse cursor over the Command Input icons will display text that refers to the inputs set in M.U.G.E.N's Key Config.
Icons encased in square brackets [

] require the respective button(s) to be held down. Hovering the mouse cursor over the icon displays the hold duration if applicable.
Hypers
Name
Command Input
Properties

| | | |
| --- | --- | --- |
| Marisa Sacrifice herself in the glorious name of Allah | / / or physical contact with opponent | Attack 's Mimi-chan |
Palette Gallery
Victory quotes
This character does not have any victory quotes, meaning it uses the screenpack's default.
Videos
Trivia
Mimi-chan's release on the 9th anniversary of the September 11th attacks, as well as the numerous references to the attacks in the character's stats and files, led some people to perceive the character's release as a joke that was in rather poor taste.
Edits
This character has not been edited.