Mimi-chan is the name given to an Intercontinental Ballistic Missile from Touhou Project, who appears in Marisa's ending during Phantasmagoria of Dim.Dream.
Mimi-chan was formerly owned by Yumemi Okazaki. As reparations for trying to kidnap the protagonist for scientific study, Yumemi offers to give them any item in her possession. Marisa Kirisame requests a weapon from the outside world, and receives Mimi-chan as a result. Due to being an ICBM, Mimi-chan is technically not alive, nor does Mimi-chan possess any kind of sentience or sense of being.
In M.U.G.E.N, Mimi-chan has been created as a joke character by RicePigeon.
RicePigeon's version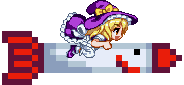 Little over a decade prior to the Touhou Project protagonists venturing into Gensokyo's underground, there was another nuclear weapon that didn't take the form of a humanoid female, but of an actual nuclear missile. Aided by her suicidal rider, Mimi-chan does what any functional ICBM was built for and launches herself directly towards the opponent, obliterating anything within the resulting blast radius in an explosive lack of subtlety.