HOLD ON!
There are versions of this character available that don't have their own branch articles!
Please help us document the following:
This article is about the character from Art of Fighting. For other uses of Mickey, see Mickey (disambiguation).
Mickey Rogers (sometimes referred to as Micky without the e) is a character from the Art Of Fighting series. He appeared in Art Of Fighting with long dreadlocks and in Art Of Fighting 2 with short hair. He is a boxer from the city of South Town. In the story of Art Of Fighting, King sends Ryo and Robert Mickey's way in order for the boxer to get the two inside the military base that Yuri is being held in. After receiving a sound beating, Mickey agreed to take them inside the airport.
In M.U.G.E.N, Mickey Rogers was created four times; by Lord Sinistro, Fred, NS and R@CE.
Lord Sinistro's version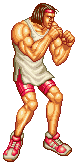 While not accurate to Art Of Fighting, this version is accurate to the character of Micky Rogers in that he'd try anything to win; even using his smelly shoe as a weapon.
Fred's version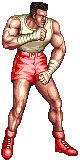 Like NS's version, this character uses Art Of Fighting 2 sprites. While it does not take the same measures that the other versions on this page took to deviate from the norm, it is also a custom version.
NS's Version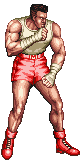 Based on his appearance from Art of Fighting 2. This version of Mickey has a customizable A.I. option and features KOFXIII styled gameplay. His A.I level can be changed from the easiest to the hardest difficulty (1:Easy 2:normal 3:MVS 4:HARD 5:CRAZY 6:KOMBAT).
R@CE's version
Sprited by Skeletor-EX and coded by R@CE, this version of Mickey features POTS Styled gameplay.