Mickey's Speedway USA is a racing video game for the Nintendo 64 and Gameboy Color, developed by Rare and published by Nintendo.
The game is similar to other kart racing games like Mario Kart and runs off a modified Diddy Kong Racing engine. The game features various Disney characters, like Mickey and Donald. In the game, Mickey's dog, Pluto, is captured by the army of Weasels for his collar. The player races on tracks in the United States to save Pluto.
In M.U.G.E.N, Mickey's Speedway has been made by Jenngra505 as a joke character released on April Fools 2017. The character is a mockery of the MUGEN ARCHIVE wiki and how they copy articles from different wikis.[1]
Jenngra505's version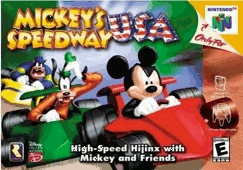 Released on April Fools day in 2017 as a mockery of both the MUGEN ARCHIVE wiki and the game being similar to Mario Kart, Mickey's Speedway USA doesn't make any attempts to portray itself as a serious fighter, as its sole method of attacking is to automatically spawn Mickey karts that increase in frequency as time passes, with the karts eventually becoming so frequent that the opponent is unable to escape its roadkill fate.
References