It looks and sounds like Mewtwo's Super Smash Bros. Melee incarnation, but plays nothing like it. Though its attacks are quite slow, it can get a combo going with its very diverse moveset consisting of both ranged and melee attacks. Its huge file size may turn some heads, however, considering the impact it has on older computers and loading times.
Mewtwo (

Mewtwo

)



Creator

Download

Localcoord

960x720
Gameplay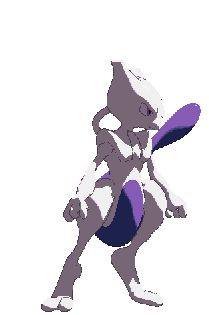 Mewtwo is a semi-slow six-button character with very strict and thus limited comboability; though it can Chain Combo its Normals, allowing for punches to be cancelled into kicks of the same strength ((X)

> (A)

), it cannot actually combo into any other attack afterwards. Comboing isn't limited to just Chain Comboing, however, as Normals can be cancelled into Specials and Hypers if the previous attack in the combo was not a Normal, so while the combos may be short, the damage output remedies this to an extent.
Mewtwo has many mechanics up its proverbial sleeve outside of the aforementioned Chain Comboing that give it a few more options on the battlefield. Though Mewtwo's natural jump height is quite high, it is capable of performing a significantly smaller jump (known internally as a hop), which allows it to use aerial attacks like its rather effective Electro Ball while close to the ground in preparation for a follow-up ground hit. Mewtwo also has access to a Zero Counter, a mechanic from the Street Fighter series that functions as a counter-attack when activated during blockstun, at the cost of 1000 Power.
With its varied moveset of both melee and ranged attacks, Mewtwo isn't just limited to one specific play style, especially when considering that its melee attacks do have quite a bit of range to them, allowing it to attack up-close or from afar without feeling too much pressure, though what does hinder this character is not just its finicky comboing options, but also its slow movement speeds and attacks, giving it real trouble against faster characters that prefer to get in close and combo; if put in such a situation, Mewtwo isn't completely helpless, as both High and Low variants of Shadow Ball (especially the

/
variants) function as effective zoning options, pushing the opponent back and giving Mewtwo room to breathe.
Mewtwo does not have a custom A.I., meaning it uses the engine default, though there is a piece of code in Mewtwo's .cmd file that prevents its A.I. from taunting. As it uses the default A.I., Mewtwo will often guard and jump around, rarely attacking purposefully, if at all, thus making Mewtwo an unchallenging opponent.
Stats
Movelist
Hovering the mouse cursor over the Command Input icons will display text that refers to the inputs set in M.U.G.E.N's Key Config.
Icons encased in square brackets [

] require the respective button(s) to be held down. Hovering the mouse cursor over the icon displays the hold duration if applicable.
Specials
Name
Command Input
Properties

Zero Counter
+ during blockstun or
during blockstun

Attack does not K.O.
Uses 1000 Power
Name
Command Input
Properties

High Shadow Ball
or


Horizontal projectile velocity varies with button pressed
[ ] to charge
version: , uses 600 Power
Name
Command Input
Properties

Low Shadow Ball
or


Horizontal projectile velocity varies with button pressed
[ ] to charge
version: , uses 600 Power
Name
Command Input
Properties

Electro Ball
or


Startup time varies with button pressed
version: uses 600 Power
Name
Command Input
Properties

| | | |
| --- | --- | --- |
| Standing Electro Ball | or | version: uses 600 Power |
Name
Command Input
Properties

Psycho Cutter
or


version:
version:
version:

*

,

*


version: uses 600 Power
Name
Command Input
Properties

| | | |
| --- | --- | --- |
| Tri Punch | | Uses 1000 Power |
Hypers
Name
Command Input
Properties
Name
Command Input
Properties
Palette Gallery
| | | |
| --- | --- | --- |
| | | |
| Regular | MeleeAlternative | Alakazam (Alakazam's colours) |
| | | |
| Darkrai (Darkrai's colours) | Mew (Mew's colours) | Armoured |
| | | |
| Shiny (Shiny colours) | Ditto (Ditto's colours) | Felicia (Felicia's colours) |
| | | |
| Rugal (Rugal Bernstein's colours) | PerfectCell (Perfect Cell's colours) | Gameboy (Mewtwo's Pokémon Red and Blue colours) |
For any additional palettes besides the above, see Alternative palettes.
Victory quotes
General
"

I might have some use for you, if you yet live.

"
"

You may have come closer than most, but you're nothing in comparison to my power.

"
"

How dissapointing. I almost thought that you might be able to match me.

"
"

Another fool wasting their life.

"
"

You're still alive - next time you might not be so fortunate.

"
"

Such a pitiful challenge isn't worth my time.

"
"

Don't waste my time with such pathetic displays of power.

"

—

Perfect victory
Character-specific
"

Someone as weak as you should know when to run from a fight.

"

— vs. Combusken, Torchic, Snivy, Squirtle, Oshawott, Tepig, Pichu and Mudkip
"

Your flames are as disappointing as your fighting skills.

"

— vs. Blaziken
"

This is the extent of your aura? I expected more from you.

"

— vs. Lucario
"

I don't need your compassion, creature.

"

— vs. Tabunne
"

Blind rage can't hope to measure against a superior being.

"

— vs. Gyarados
"

Get lost. You can't compare with my powers.

"

— vs. Gardevoir
"

I can't be challenged by a stack of rocks.

"

—

vs. Iwark
"

I have no time to waste against a primitve beast.

"

— vs. Ramparudo
"

Must I kill you to make my point this time?

"

— vs. Pikachu
"

Is that the best you have to offer? You dissapoint me, Dragon.

"

— vs. Rayquaza
"

You should learn to protect youself before others, weakling.

"

— vs. Gallade
"

Was that all the power you hold?

"

—

vs. Voltorb
"

Neither man nor mutant is fit to rule this era.

"

— vs. Magneto
"

What chance do you stand if you cannot harness your full power?

"

— vs. Rugal Bernstein, Omega Rugal, Rugal EX, God Rugal, Segalow and D-Rugal
"

The only blood spilt today is on my hands.

"

— vs. Geese Howard and Young Geese Howard
"

Such pathetic delusions of grandeur.

"

— vs. Gill
"

Psycho Power is nothing to me.

"

— vs. M. Bison
"

Another worthless clone. Stop wasting my time.

"

— vs. Mewtwo
Videos
Trivia
Mewtwo has unused victory quotes against Rotom, Dialga & Palkia, Zoroark, Pokémon Trainer and MissingNo.; the quotes themselves are still present, but they do not show up in-game.
Mewtwo's victory quote against "Iwark" was likely intended to show up against Iwa-ku, though because Iwa-ku's internal name is not Iwark, it does not.
Edits
This character has not been edited.
Ad blocker interference detected!
Wikia is a free-to-use site that makes money from advertising. We have a modified experience for viewers using ad blockers

Wikia is not accessible if you've made further modifications. Remove the custom ad blocker rule(s) and the page will load as expected.