Alerkina4 dreamed of creating the world's strongest Pokémon, and missed by a long shot, unless you consider 41 sprites strong. Giovanni wouldn't quite approve of anything that this character has to offer, whether it be sprites or gameplay. To rub the salt into the wound, it happens to be a spriteswap of Winnie The Pooh, one of the creator's bad habits.
Mewtwo (

Mewtwo

)



Creator

Alerkina4

Download

Resolution

High
Gameplay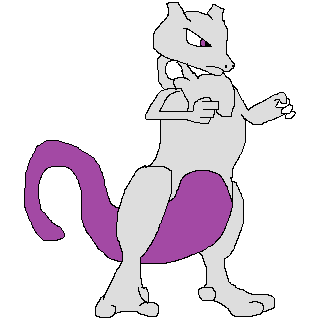 Mewtwo is a 4-button character that lacks any Special or Hyper attacks, having only the bare minimum for a 4-button character, thus it lacks any form of comboing outside of walking infinites. Mewtwo's hitboxes are highly unoptimised to the point of there being redundant hitboxes inside other hitboxes, though these are likely the hitboxes of the character Mewtwo is a spriteswap of.
Mewtwo's A.I. uses the engine's default A.I., meaning Mewtwo simply blocks a lot, jumps around the stage and attacks at random intervals.
Stats
Movelist
This character does not have any Special or Hyper Attacks.
Palette Gallery
| | | |
| --- | --- | --- |
| | | |
| mewtwo1 | mewtwo2 | mewtwo3 |
| | | |
| mewtwo4 | mewtwo5 | mewtwo6 |
| | | |
| mewtwo7 | | |
Victory quotes
This character does not have any victory quotes, meaning it uses the screenpack's default.
Videos
Edits
This character has not been edited.