This custom-sprited version of Meta Knight is heavily inspired by its Super Smash Bros. Brawl counterpart, although it might be a little too heavily inspired, as its attack speed is blindingly fast to the point that the character feels less combo heavy and more spam happy, which would easily qualify it for M.U.G.E.N's SS tier.
Meta-Knight (

Meta-Knight

)



Creator

Download

Resolution

Low
Gameplay

Meta-Knight plays similarly to Claymizer's Kirby character, in that his low height allows him to avoid most standing and aerial attacks, he utilises all six attack buttons, and that he is rather combo-heavy, while still dealing a higher-than-average amount of damage. A common problem with this, and all of Claymizer's other characters, is the lack of a dizzy animation, or at least, a lack of collision hitboxes during said animation, meaning characters with some form of Fatality cannot execute them. Meta Knight can rack up some high combos while on the ground, but is at his best during aerial combat due to his multiple air jumps.
Stats
Movelist
Hovering the mouse cursor over the Command Input icons will display text that refers to the inputs set in M.U.G.E.N's Key Config.
Icons encased in square brackets [

] require the respective button(s) to be held down. Hovering the mouse cursor over the icon displays the hold duration if applicable.
Specials
Name
Command Input
Properties
Name
Command Input
Properties
Name
Command Input
Properties

| | | |
| --- | --- | --- |
| The Halberd | | Uses 3000 Power |
Hypers
Name
Command Input
Properties

| | | |
| --- | --- | --- |
| Triple Sword Beam | | Uses 1000 Power |
Name
Command Input
Properties

Galaxia Darkness

*


Uses 1000 Power
Others
Name
Command Input
Properties

| | | |
| --- | --- | --- |
| Dimensional Cape |   | Warp destination varies with button pressed |
Palette Gallery
| | | |
| --- | --- | --- |
| | | |
| Meta1 | MetaDark | Kirby |
| | | |
| White | Evil | |
Victory quotes
This character does not have any victory quotes, meaning it uses the screenpack's default.
Videos
Trivia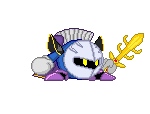 Meta Knight's name is misspelled as Meta-Knight which, alongside an 's', is the name of the group he commands.
Meta Knight has an unused move called Sword Storm, which (as the name suggests, as well as Claymizer stating it himself) is based on his newer version of Sonic's Foot Storm attack. It is unknown why this move wasn't used, as its animation and coding are still present.
Edits
This character has not been edited.
Ad blocker interference detected!
Wikia is a free-to-use site that makes money from advertising. We have a modified experience for viewers using ad blockers

Wikia is not accessible if you've made further modifications. Remove the custom ad blocker rule(s) and the page will load as expected.