This article is in need of improvement!

Brief description needs to be expanded and written from a neutral point of view.
Movelist needs to be added.

Please help us rectify this!
Awful hitboxes, sprites, and obvious evidence of being a spriteswap aside, the quality of this character is EEEEEEVVVVVIIILLLL!!!!!
Mermaid Man (

Mermaid Man

)



Creator

Download

Resolution

High
Gameplay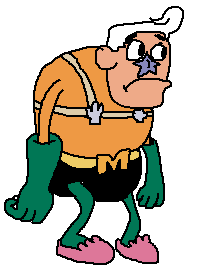 Mermaid Man is a spriteswap of TheIranSonic & Sonicadam2's first Gumball Watterson. The character's moveset, like the base character it was swapped from, is very limited, having only three Hypers, most of which are incredibly generic (such as a Shun Goku Satsu); furthermore, the hitboxes from the base character were unchanged, meaning that many of Mermaid Man's Normals don't connect with the opponent.
Like the base character, Mermaid Man doesn't have an A.I, making it an easy opponent. However, take note of the messed up hitboxes, as they may cause it to be hard to hit.
Stats
Movelist
Palette Gallery
| | | |
| --- | --- | --- |
| | | |
| mermaid2 | mermaid3 | mermaid4 |
| | | |
| mermaid5 | mermaid6 | mermaid7 |
| | | |
| mermaid8 | mermaid9 | mermaid1 |
Victory quotes
This character does not have any victory quotes, meaning it uses the screenpack's default.
Videos
Edits
This character has not been edited.