Mermaid Man is a formerly-retired superhero living in Bikini Bottom. He was voiced by the late Ernest Borgnine until the episode Mermaid Man Begins. He and his sidekick, Barnacle Boy, are the stars of a show-within-a-show called The Adventures of Mermaid Man and Barnacle Boy, but they are also real superheroes within the universe of SpongeBob SquarePants. The two are now very old, and currently reside at Shady Shoals Rest Home when they're not saving the day.
In M.U.G.E.N, Mermaid Man was made by Alerkina4.
Alerkina4's version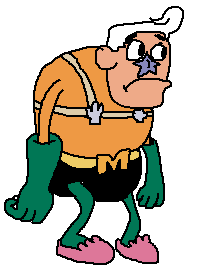 Awful hitboxes, sprites, and obvious evidence of being a spriteswap aside, the quality of this character is EEEEEEVVVVVIIILLLL!!!!!