The end result of Ironcommando being in a particularly foul mood, to assume MUGEN is as cheap as the creator's other characters would be completely wrong, with the character existing solely to serve as a punching bag upon which fury-driven beat-downs are brought; featuring the title screen of WinMUGEN as its only sprite, this character stands as a testiment to how infuriating the engine can be at times.
MUGEN (

MUGEN

)



Creator

Download

Resolution

High
Gameplay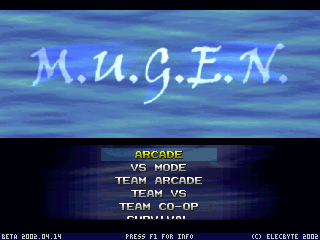 For all intents and purposes, MUGEN is nothing more than a punching bag, being completely incapable of performing any actions other than walking or jumping. Due to its nature as a punching bag, it is impossible to win a match with it unless the F1 key is used or it has a simuls mode partner that can attack. Its hitbox is fairly large and covers the entire sprite. Strangely, if it jumps while walking, it jumps in the opposite direction it walks to.
As one would expect, it has no custom A.I. and uses the engine's default. Because it still moves around and jumps, this can get in the way of using it as a punching bag.
Stats
Movelist
This character does not have any Special or Hyper Attacks.
Palette Gallery
Victory quotes
This character does not have any victory quotes, meaning it uses the screenpack's default.
Videos
Edits
This character has not been edited.