M.U.G.E.N
Talk

6
3,130pages on
this wiki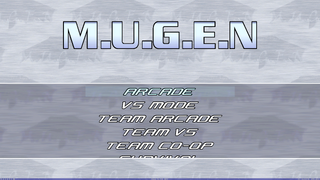 M.U.G.E.N
(also written as
MUGEN
and
Mugen
) is a freeware 2D fighting game engine developed by
Elecbyte
. The most recent version of M.U.G.E.N to be publicly released is version 1.0, though the highly anticipated version 1.1 was leaked during the early stages of May 2013 in its alpha state, due to Elecbyte's inactivity, with mixed opinions on its leakage.
M.U.G.E.N allows users (typically known as "authors" or "creators") to create content for the engine such as (but not limited to) characters and stages for others to download, and add to their game, or just to keep for themselves, as well as fully-fledged fighting games. Being a fighting game engine at heart, M.U.G.E.N takes inspiration from a variety of classic fighting game series such as Street Fighter and The King of Fighters, featuring a seven-button combat system (a, b, c, x, y, z and start), typically representing three punches, three kicks and a taunt, though characters are not limited to having those presets, with some only having four or just three attack buttons and a taunt.
M.U.G.E.N has a fairly large community, with multiple forums and sites dedicated to the engine, as well as many internet videos with the purpose of teaching users how to use and customise the engine, or (more commonly) broadcasting M.U.G.E.N fights.
Development
Edit
M.U.G.E.N started off as a 2D side-scrolling platformer engine, with its name supposedly being derived from those days. It is unknown why Elecbyte decided to scrap the initial idea and turn it into a fighting game engine, though one might hazard a guess at it being to do with a lack of customisation options.
Version history
Edit
| | |
| --- | --- |
| | This section is currently incomplete. Please help us rectify this. |
18th January 2011: Version 1.0
29 June 2010: Version 1.0 RC8
20 March 2010: Version 1.0 RC7
8 December 2009: Version 1.0 RC6
28 October 2009: Version 1.0 RC5
25 October 2009: Version 1.0 RC4
12 October 2009: Version 1.0 RC3
29 September 2009: Version 1.0 RC2
22 September 2009: Version 1.0 RC1

HOLD ON!
This article has been considered a
stub
. Please help the MUGEN Database by
expanding this article
.