Lugia



Creator(s)

Various

Download

Origin

Pokémon
Lugia is a Psychic/Flying-type Pokémon from the Pokémon series. It is a legendary Pokémon native to the Johto region, and is the version mascot of Pokémon Silver and its remake Pokémon SoulSilver, as well as Pokémon XD: Gale of Darkness. It does not evolve into or from any known Pokémon. It appears at #252 in the Johto Pokédex and #249 in the National Pokédex.
Lugia spends most of its time in self-imposed exile at the bottom of the sea due to its immense strength. It is said to appear whenever storms begin, as a single flap of its wings can calm storms as well as create them. In Pokémon XD: Gale of Darkness, a Lugia codenamed XD001 was found by the criminal organization Cipher, and subsequently corrupted and turned into an experimental Shadow Pokémon immune to purification, a process that drastically altered its physical appearance.
In M.U.G.E.N, Lugia has been created by various authors. A version by Ryon and Alexei also exists as a boss character and secret playable character in the fullgame Project Catch 'Em All.
ŒÜŒŽ‰J–'—ŽÑ's Rugia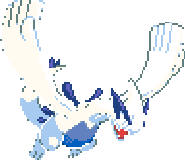 A version of Lugia designed solely for defeating other incredibly cheap characters such as itself. Its code prevents it from being K.O.'d by normal attacks, and thus requires complex code workarounds to take down. It should be noted that it can defeat itself with its own attacks, of which it has eight (four standing, one aerial and three crouching).
Stats
Videos