HOLD ON!
There are versions of this character available that don't have their own branch articles!
Please help us document the following:
Lola Bunny



Creator(s)

BeanFan112
imomj1

Oldest version

BeanFan112's version

Newest version

Origin

Looney Tunes
Lola Bunny is a female rabbit from the Looney Tunes series. Her first appearance in the series was on the movie Space Jam, where she was the girlfriend of Bugs Bunny. She had tomboyish traits, having a sporty side. This was her only role in the Looney Tunes series.
However, this is not the case in The Looney Tunes Show. Instead, she has more girly-like traits, instead of tomboyish traits. In this series, she is not dating Bugs Bunny, and has a completely different style. In some episodes, she attempts to try to get Bugs to become her boyfriend, but fails to do so, though they did have a date before. In one episode, she even fell in love with Daffy Duck.
In M.U.G.E.N, Lola Bunny has been made by BeanFan112 in the style of The Looney Tunes Show, it also made by imomj12.
imomj1's version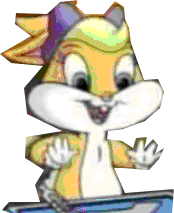 This character offers exactly what it looks like. A still image that plays like wood. Nothing more, Nothing less. Anyone can call this character a doll with no ill effects.
Ad blocker interference detected!
Wikia is a free-to-use site that makes money from advertising. We have a modified experience for viewers using ad blockers

Wikia is not accessible if you've made further modifications. Remove the custom ad blocker rule(s) and the page will load as expected.