HOLD ON!
This article has information copied straight from Wikipedia, a wiki on the Wikia network, or another webpage entirely without citing the proper credits.
Larxene



Creator(s)

Ultraboard101

Download

Origin

Kingdom Hearts
Larxene, the Savage Nymph (非情の妖姫 Hijō no Yōki?, lit. Callous Vixen), is Rank XII within Organization XIII. Larxene is the group's only female member, and also has a very sadistic nature. She controls lightning, and uses it to thrash opponents with rapid attacks while also attacking them with her weapons: electrified throwing knives.
She is one of the members stationed at Castle Oblivion during Kingdom Hearts: Chain of Memories and is part of an internal struggle between the senior and rookie members. Larxene also appears as a playable character in the non-canonical Mission Mode of Kingdom Hearts 358/2 Days and is the first playable female character in the series.
In M.U.G.E.N, Larxene has been made by Ultraboard101.
Ultraboard101's verison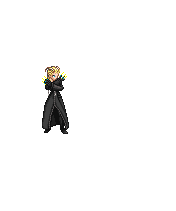 Ultraboard101's version has three keys. 2 of them are combo starters while the third key is for specials. His Larxene Fights very Similar to Alexei Roschak's NZC System. It can Launch an opponent into the air and pull of an air combo. However there are bugs that exist in her combos where she will get stuck when close to the opponent. Her supers are overpowered for each level, Almost always landing a OHKO for each one.
Stats
Movelist
Hovering the mouse cursor over the Command Input icons will display text that refers to the inputs set in M.U.G.E.N's Key Config.
Icons encased in square brackets [

] require the respective button(s) to be held down. Hovering the mouse cursor over the icon displays the hold duration if applicable.
Hypers
Name
Command Input
Properties

| | | |
| --- | --- | --- |
| Summon Clone | | Uses 1000 Power |
Name
Command Input
Properties

| | | |
| --- | --- | --- |
| Lightning Strike | | Uses 1000 Power |
Name
Command Input
Properties

| | | |
| --- | --- | --- |
| Lightning Storm | | Uses 2000 Power |
Name
Command Input
Properties

| | | |
| --- | --- | --- |
| No Escape | | Uses 2000 power |
Name
Command Input
Properties

| | | |
| --- | --- | --- |
| Lightning Lift | | Uses 3000 Power |
Name
Command Input
Properties

| | | |
| --- | --- | --- |
| You're Getting On My Nerves | | Uses 3000 Power |
Videos