Kyoko Sakura is a rival magical girl with an equally fiery personality. When she learns that Sayaka Miki is to become a Puella Magi just before her arrival, she becomes an enemy to steal her territory. Unlike Mami Tomoe, her only goal is to collect grief seeds, so as to leave the familiar witches to commit murder so they in turn become witches and thus more. She fights with a spear that can extend and be divided into several sections, which can immobilize and knock enemies through the sphere at its end. She can change her size at will. It would appear she is perpetually eating something, even during the fights.
In M.U.G.E.N, Kyoko Sakura has been made by Waribashi and by HAL.
Waribashi's version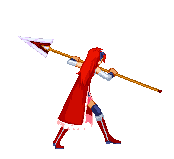 Kyoko Sakura is a fast character which favors an aggressive playstyle. Not only is she easy to combo with, but most of her attacks deal heavy damage, making her an absolute nightmare at close range, capable of rushing down her opponents extremely quickly. However, with her longer-range attacks being weak and very limited in application and her overemphasis on having to be close to her opponent, she can come off as fragile in many situations, and her attacks are easy to block, requiring the player to find suitable openings in the enemy's defense before unleashing a lethal chain of attacks.
Stats
Movelist
Hovering the mouse cursor over the Command Input icons will display text that refers to the inputs set in M.U.G.E.N's Key Config.
Icons encased in square brackets [

] require the respective button(s) to be held down. Hovering the mouse cursor over the icon displays the hold duration if applicable.
Specials
Name
Command Input
Properties

| | | |
| --- | --- | --- |
|  ??? | | Can be done 3 times |
Name
Command Input
Properties

 ???
in old version
in new version
in new version
Name
Command Input
Properties

| | | |
| --- | --- | --- |
|  ??? | | Old version only |
Name
Command Input
Properties
Name
Command Input
Properties

 ???
in old version
in new version
Hypers
Name
Command Input
Properties

 ???
Uses 1000 power
Press or during the 6th hit for additional attack
Old version only
Name
Command Input
Properties

 ???
in old version
in new version

Uses 1000 power
Name
Command Input
Properties

 ???
Uses 1000 power
New version only
Name
Command Input
Properties

 ???
+ in old version
+ in new version

Uses 2000 power