Klaymen



Creator(s)

boomrainbownuke

Download

Origin

The Neverhood
Klaymen is the protagonist of The Neverhood. His adventures through his world (The Neverhood) start when Klaymen is first born in The Nursery, even though in The Neverhood, he is born as a full grown adult from a seed. Klaymen wanders around The Neverhood and soon discovers that King Hoborg has been overthrown by Klaymen's brother Klogg. Klaymen is told the story of what happened by his cousin Willie Trombone through various tapes found around The Neverhood.
After the events on The Neverhood, Klogg lands on the planet "Idznak" and convenes the creatures on that planet, known as Skullmonkeys, to help him destroy the Neverhood. He wants them to build a machine called Evil Engine Number 9. However there is one intelligent skull monkey named Jerry-O who which sends a flying device to retrieve Klaymen and bring him to planet Idznak. After his journey he kills Klogg in the final battle and the machine is destroyed. Klaymen also makes an appearance in the game "Boombots" as a playable character
In M.U.G.E.N, Klaymen has been made by boomrainbownuke.
boomrainbownuke's version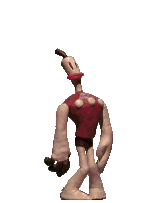 This is a five-button character that is much bigger than normal characters and also quite overpowered. Several of his attacks have extremely long range and infinite priority, with one of them being fullscreen. His Hypers cost little Power and deal excessive amounts of damage, with the more powerful ones dealing more than 2/3 of an opponent's Life. All of his Specials ans Hypers are executed solely through the direction keys.
His A.I. is fairly weak, but his stats and overpowered nature make him difficult and tedious to take down, along with one other additional thing: If low on life, he will use his most powerful hyper as soon as possible. It deals absurdly high damage and is unblockable, frequently leading to him pulling a sudden and cheap victory.
Stats
Movelist
Hovering the mouse cursor over the Command Input icons will display text that refers to the inputs set in M.U.G.E.N's Key Config.
Icons encased in square brackets [

] require the respective button(s) to be held down. Hovering the mouse cursor over the icon displays the hold duration if applicable.
Specials
Name
Command Input
Properties

| | | |
| --- | --- | --- |
| QCF | | |
Hypers
Name
Command Input
Properties

| | | |
| --- | --- | --- |
| Super Willy | | Uses 1000 Power |
Name
Command Input
Properties

| | | |
| --- | --- | --- |
| Bullets | | Uses 1000 Power |
Name
Command Input
Properties

| | | |
| --- | --- | --- |
| Big Robot Bil | | Uses 1000 Power |
Palette Gallery
Videos
Ad blocker interference detected!
Wikia is a free-to-use site that makes money from advertising. We have a modified experience for viewers using ad blockers

Wikia is not accessible if you've made further modifications. Remove the custom ad blocker rule(s) and the page will load as expected.