A character notorious for having received very negative feedback, 300guy is little more than a headswap of Ax Battler from Golden Axe. With a very limited moveset, lack of comboabiliy and no Specials or Hypers, he is a very difficult character to play as. This character is not going to succeed in the Battle of Thermopylae anytime soon.
300guy (

300guy

)



Creator

Download

Resolution

Low
Gameplay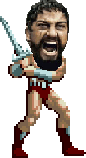 300guy is a three-button character with a very strange button layout, using the (C)

, (X)

and (Z)

buttons for attacks. In addition to using only three buttons, 300guy has several missing crouching and aerial Normals, similarily to J. NEWMAN's characters, giving him a severely limited moveset.
300guy has no comboability and is unable to chain any of his attacks together. His attacks don't deal much damage either, making him a very weak character and very hard to play as. All of his attacks are blockable and none of them deal chip damage. 300guy has no hitboxes in his hit animations, making it very hard to perform combos on him and forcing the opponent to use grabs and powerful single-hit attacks. He also has no hitboxes while guarding, making him completely invincible while guarding.
300guy has three attacks that were likely intended to be Hypers, given that they have superpauses and are activated with a directional input, but they are incorrectly attributed as Normals. Said attacks don't require any Power and deal only slightly more damage than his Normals. 300guy has no attacks that are actually attributed as Specials or Hypers.
300guy has no custom A.I. and uses the engine's default. The A.I. doesn't attack often and commonly jumps around and blocks. His small moveset lack of comobability and low damage output make him a very unchallenging opponent.
Stats
Movelist
This character does not have any Special or Hyper Attacks.
Palette Gallery
| | | |
| --- | --- | --- |
| | | |
| 300 | sparta | new |
| | | |
| supersparta | black | |
Victory quotes
This character does not have any victory quotes, meaning it uses the screenpack's default.
Videos
Edits
This character has been edited. For a full list of edits, see Edits.