Kanon



Creator(s)

Sxvector

Download

Origin

Legend of the Golden Witch
Kanon is a servant of the Ushiromiya family from Umineko When They Cry. He is 16 years old and is the love interest of Jessica Ushiromiya. He is described as a frail boy and denies human emotion since he is not human but considers himself furniture. When in battle, he fights with a red sword like weapon. 
In M.U.G.E.N, Kanon has been made once by Sxvector. 
Gameplay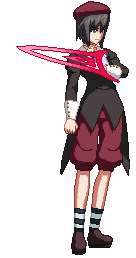 Kanon is a 4 buttoned character. His AI does not fight in battle. Nonetheless, when in the player's hands, he has the potential to be deadly. He is a melee oriented character and does not have any projectiles. His moveset conists of slashes with his sword. In total, he has four specials, three level one supers, and one level two super. His Metaworld ability is Silent Attack, which drastically reduces the amount of power the opponent gains from being attacked by him.
Stats
Movelist
Hovering the mouse cursor over the Command Input icons will display text that refers to the inputs set in M.U.G.E.N's Key Config.
Icons encased in square brackets [

] require the respective button(s) to be held down. Hovering the mouse cursor over the icon displays the hold duration if applicable.
Specials
Hypers
??? -
(A)

+(B)

(uses 1000 power)
??? -

(A)

+(B)

(uses 1000 power)
??? -
(A)

+(B)

(while in the air) (uses 1000 power)