HOLD ON!
There are versions of this character available that don't have their own branch articles!
Please help us document the following:
Juggernaut (real name: Cain Marko) is a villain from the X-Men series, and a villain in the Marvel universe as a whole. He is Professor X's stepbrother, who bullied Xavier because Marko was secretly being abused by his father and also favored Xavier more than him. Later, Marko found the crimson gem of Cyttorak and read the inscription which granted him a mystical armor that made him incredibly strong and nearly indestructible.
In M.U.G.E.N, Juggernaut was made several times by various authors.
Carnificina's version
While this could very possibly be one of the oldest versions of Juggernaut in M.U.G.E.N, it isn't easy to deny how overpowered this version is, with its lone Hyper almost being an untrue OHKO, and its other Specials being similarly overpowered.
Splode's version
This Juggy is based off X-Men vs. Street Fighter and doesn't speak lies. It is slow but powerful, and as a result, is quite unstoppable.
MGMURROW's version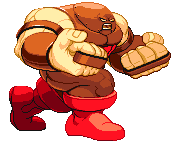 While it plays like Marvel vs. Capcom, it also has abilities from other Capcom fighting games, such as an Alpha Counter and a Parry.
Kong's version
While it attempts to be accurate to Marvel vs. Capcom 2, it has a couple glaring differences from the source game.
Kamekaze's version
A pretty source-accurate Juggernaut, this time to Marvel vs. Capcom 2. It comes equipped with most of the tricks it usually has up its sleeves. Add to that a Hard A.I., and you have a character who is unstoppable indeed.
Acey and ZVitor's version
This Juggy leans more to the custom side, harboring new Specials and Hypers in addition to the new sprites and animations.
Guraten's version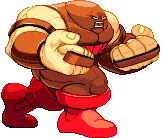 An overall ordinary version of Juggernaut, this version opts to be based off Marvel Super Heroes. However, it lacks the gem system from said game, causing it to not stand out from the crowd. It is still Juggernaut through and through, with some rather powerful aerial raves.
Victorys' version
Unlike the other versions which shoot for accuracy to the Marvel vs. Capcom games, this one encapsulates PotS' characters and does a rather good job at it.
Videos
Trivia
There was supposedly a W.I.P by Mgbenz, but due to lack of activity, it was possibly cancelled. [1]