"Josh Geary" redirects here. For the creator, see Josh Geary (creator).
WARNING!
Both this article and the content documented in it contain language that may be considered offensive to some users. Continue reading and/or choose to download the content at your own discretion.
HOLD ON!

There are file links on this page that are either outdated or broken. This applies to the following download link(s):

Joke version
Bosh Meary
Juwsh Gayly

Please replace them with the latest working links!
Josh Geary is JGearyAndJSlikk's self-character. He is practically bald, sporting only a number of short, blue hairs, and wears a yellow shirt and big, green glasses and shoes. In some instances, his shirt has "NEOPETS" written across it.
The character's design has been criticised, parodied and mocked due to its weird anatomy, primarily because his body and shoes resemble boxes (often referred to as a cereal box and tissue boxes, respectively), and that his head resembles a massive lemon. Recent iterations of the character have the edges of his body and shoes curved to make them appear more rounded.
In M.U.G.E.N, multiple versions of Josh Geary have been made, though almost all versions other than the original by JGearyAndJSlikk3 are intended to be mockeries or joke characters. Most versions use sprites from the original version.
JGearyandJSlikk's first version

Josh Geary has next to no collision boxes in some of his animations, with some of the clsns being too small. The character is also very cheap with his 150 attack stat, which allows him to KO any normal character in just a few hits.
Stats
Movelist
Hovering the mouse cursor over the Command Input icons will display text that refers to the inputs set in M.U.G.E.N's Key Config.
Icons encased in square brackets [

] require the respective button(s) to be held down. Hovering the mouse cursor over the icon displays the hold duration if applicable.
Palette Gallery
JGearyAndJSlikk's second version

Josh Geary uses the same template as its old counterpart. Another problem with this character is that the collision boxes are still small, and he is still overpowered. He also has the same high Defence and Life stats as the old version, making him somewhat hard to take down along with the small clsn boxes, not helped by his new "healing factor" move that can restore his Life.
JGearyAndJSlikk's third version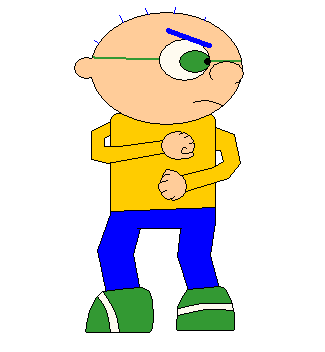 Remade from scratch, this third version uses N64Mario's character template as a base. Its gameplay style is a mix between Capcom vs. SNK 2 and Marvel vs. Capcom.
Josh Geary has custom A.I., which the creator describes as a combination of brutal and cheap A.I.
Stats
FantasyBladeHeaven's Juwsh Gayly
Juwsh Gayly is an edit of ABSOLUTE-Yveltal's Bosh Meary. It changes his idle and a few sounds. His Life stat is buffed, but his Defence and Attack stats are set to zero.
Origami Almighty's version
Unlike many Josh Geary parody characters, Fosh Beary is perfectly capable of holding his own and doesn't go down in just a few hits. The majority of his moveset revolves around the use of lemons (particularly combustible ones), either through shooting them out of his Lemon Blaster or excreting them with excessive force.
Videos
Ad blocker interference detected!
Wikia is a free-to-use site that makes money from advertising. We have a modified experience for viewers using ad blockers

Wikia is not accessible if you've made further modifications. Remove the custom ad blocker rule(s) and the page will load as expected.