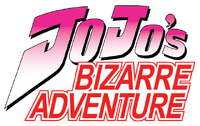 JoJo's Bizarre Adventure is a manga & anime series by Hirohiko Araki, first published in 1987 and is currently ongoing. The series follows the stories of the descendants of the Joestar family over the course of the past century, starting with Jonathan Joestar, as they encounter supernatural foes and acquire powers capable of defeating them. The series is divided into eight parts, with each part focusing on a different member of the Joestar family in their respective time period. Unlike parts 1 through 6, parts 7 through 8 take place in their own separate alternate timeline.
In M.U.G.E.N, many characters from various parts of JoJo's Bizarre Adventure have been made, most of them using the sprites from JoJo's Bizarre Adventure: Heritage for the Future, which is based on Part III: Stardust Crusaders, while characters appearing in other parts of the series have utilized modified sprites from said game.
Characters
Part I: Phantom Blood
Dio Brando
Jack the Ripper
Jonathan Joestar
William A. Zeppeli
Part II: Battle Tendency
Caesar A. Zeppeli
Kars
Lisa Lisa
Rudol von Stroheim
Ultimate Lifeform Kars
Part III: Stardust Crusaders
Alessi
Black Polnareff
Cool Ice
DIO (Shadow)
Iggy
Mariah
Part IV: Diamond is Unbreakable
Josuke Higashikata (Part 4)
Koichi Hirose
Part V: Vento Aureo
Part VI: Stone Ocean
Part VII: Steel Ball Run
Part VIII: JoJolion
Josuke Higashikata (Part 8)
Other Characters
Stages
Ad blocker interference detected!
Wikia is a free-to-use site that makes money from advertising. We have a modified experience for viewers using ad blockers

Wikia is not accessible if you've made further modifications. Remove the custom ad blocker rule(s) and the page will load as expected.