Jessica Ushiromiya



Creator(s)

Shuu

Download

Origin

Legend of the Golden Witch
Jessica Ushiromiya is a character from both Umineko When They Cry, and its fighting game spin-off Ougon Musou Kyoku.
Jessica is the daughter of Krauss and Natsuhi Ushiromiya and is one of the oldest grandchildren of Kinzo. Her love interest is Kanon, a family servant. She is described as strong-willed, outgoing, and exuberant person and is an excellent fighter and guitarist. She is also 18 years old. 
In M.U.G.E.N, Jessica Ushiromiya has been made once by Shuu.
Gameplay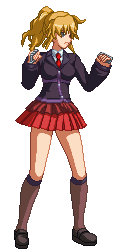 Jessica is mostly a melee oriented character and only utilises one type of projectile during battle. She uses her brass fists and is able to chain attacks on the opponent and has Kanon as a striker. She is quick to her feet and will not hestitate to combo and use her specials and hypers when the moment arrives. She recommended for intermidiate players as an opponent. She has the ability to use electricity in order to increase her damage output and in order to create projectiles. After receiving assistance from Kanon, she will use her anti-air guitar hyper while the player is in the air.
Stats
Movelist
Hovering the mouse cursor over the Command Input icons will display text that refers to the inputs set in M.U.G.E.N's Key Config.
Icons encased in square brackets [

] require the respective button(s) to be held down. Hovering the mouse cursor over the icon displays the hold duration if applicable.
Palette Gallery
| | | |
| --- | --- | --- |
| | | |
| Jessica-1 | Jessica-2 | Jessica-3 |
| | | |
| Jessica-4 (Chiester 410's Colors) | Jessica-5 | Jessica-6 |
| | | |
| Jessica-11 (Dark) | Jessica-12 (Gold) | |
Videos