After three years in the making, Jailbot finally joins M.U.G.E.N with fully custom sprites, an array of palettes submitted by Mugen Guild users and plenty of references to Superjail!, including a vast arsenal of weapons at its disposal, both long- and close-ranged. Hovering above the ground enables Jailbot to avoid some sweeping attacks, but its inability to crouch prevents it from avoiding high attacks; it can still block low attacks, however.
Jailbot (

Jailbot

)



Creator

altoiddealer

Download

Localcoord

320x240
Gameplay

Jailbot is a six-button character. While it uses (X)

, (Y)

and (Z)

for punches and (A)

, (B)

and (C)

for kicks, its standing (C)

and (Z)

work differently. Its standing (C)

and be charged and its standing (Z)

has very long range. Also, a different move is activated when close to the opponent. Both have quite slow startup. It also has a Super Jump, but it jumps slower than most characters with a Super Jump.
It appears to focus on throws, since a lot of its Specials and Hypers are throws. Most of its Normals have a mediocre range and its comboability is limited, but its damage output, as well as its Defence, are higher. Its comboabilty usually doesn't extend further than a few hits and the Super Jump doesn't aid a lot in comboing. However, its Specials have long range. They can be used to chip away the opponent's Life from a distance. However, they do have long startup and ending lag.
One of Jailbot's biggest weaknesses is that it can't crouch, giving smaller opponents a huge advantage. Jailbot has limited options against smaller opponents because it doesn't have many attacks that can hit them apart from its standing (Z)

. Because of this, its moveset is also more limited because it has almost crouching moves. It does have a move that hits low and trips the opponent though, activated with

(A)

. Its (Z)

version of Bash n' Toss costs 1000 Power but strangely, it deals only slightly more damage than the (Y)

version of Bash n' Toss. However, its two other Hypers are fairly damaging. Notably, the Pong segment of its Arcade Hyper can be controlled by the player. The damage depends on whether the player wins the game or loses.
It has a custom A.I. It deliberately isn't made too difficult and is of medium difficulty. It is able to perform decent combo strings, but it doesn't deal too much damage at once. It also occasionally leaves itself open to damage. Sometimes it stands still, jumps around or taunts.
Stats
Movelist
Hovering the mouse cursor over the Command Input icons will display text that refers to the inputs set in M.U.G.E.N's Key Config.
Icons encased in square brackets [

] require the respective button(s) to be held down. Hovering the mouse cursor over the icon displays the hold duration if applicable.
Specials
Name
Command Input
Properties

| | | |
| --- | --- | --- |
| Minigun | | Duration varies with button pressed |
Name
Command Input
Properties

| | | |
| --- | --- | --- |
| Long Punch | | Angle varies with button pressed |
Name
Command Input
Properties
Name
Command Input
Properties

Bash n' Toss

and versions:
version: uses 1000 Power
Hypers
Name
Command Input
Properties

Fan Blade Attack

Angle varies with button pressed
Uses 2000 Power
Name
Command Input
Properties

Arcade

/ to move paddles during JailPong segment

*


Uses 3000 Power
Others
Name
Command Input
Properties

| | | |
| --- | --- | --- |
| Minigun Fake-Out | | [ ] to extend duration |
Palette Gallery
| | | |
| --- | --- | --- |
| | | |
| 1,1 | 1,2 (Game Boy colours) | 1,3 (Kick-Ass' colours) |
| | | |
| 1,4 | 1,5 (The Warden's colours) | 1,6 (BMO's colours) |
| | | |
| 1,7 | 1,8 (Famicom R.O.B.'s colours) | 1,9 |
| | | |
| 1,10 (Springtrap's colours) | 1,11 (Xbox colours) | 1,12 |
This character uses a Palette Selector that allows for more than 12 palettes to be chosen, and as such, only the first 12 are shown here. For a full list of palettes, see Alternative palettes.
Victory quotes
This character does not have any victory quotes, meaning it uses the screenpack's default.
Videos
Trivia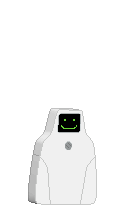 During Jailbot's development, altoiddealer uploaded a video of him using the character to propose to his girlfriend.[1]
Most of the palettes are user-submitted, with a list of users who contributed present in the ReadMe.
If Jailbot K.O.s an opponent with the Arcade Hyper, a special victory animation will play that shows a scrolling list of the character's credits.
Jailbot's eyes follow the opponent, with the character's expression changing should they jump over him while he is running forwards; in addition, Jailbot's face will glitch out if his Life gets low enough, with the effect increasing in severity the lower it is.
Edits
This character has not been edited.
References