Hydron



Creator(s)

Trasgo7

Download

Origin

Red Earth
Hydron (known as Nool in Japan) is a boss from Red Earth. Hydron is a half-ammonite, half-kraken mutated squid monster who was given power by Scion.
In M.U.G.E.N, Hydron has been made once by Trasgo7.
Trasgo7's version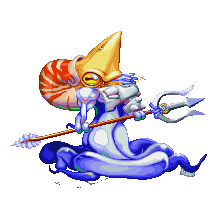 Hydron is a very powerful character in the right hands. He has many powerful and quick attacks, but has trouble avoiding some attacks due to his crouch being inferior to that of most other characters, and his above-average size makes him easier to hit (Although he can spam Hydro Spins, Nochiller attacks and Spin Kicks to avoid this problem). His A.I. is normal, but tricky.
Stats
Movelist
Hovering the mouse cursor over the Command Input icons will display text that refers to the inputs set in M.U.G.E.N's Key Config.
Icons encased in square brackets [

] require the respective button(s) to be held down. Hovering the mouse cursor over the icon displays the hold duration if applicable.
Specials
Name
Command Input
Properties
Name
Command Input
Properties

| | | |
| --- | --- | --- |
| Nochiller's Attack | | |
Name
Command Input
Properties

| | | |
| --- | --- | --- |
| Tadpole Shot (Short Range) | | |
Name
Command Input
Properties

| | | |
| --- | --- | --- |
| Tadpole Shot (Long Range) | | |
Name
Command Input
Properties

| | | |
| --- | --- | --- |
| Hydro Spin | | |
Name
Command Input
Properties
Name
Command Input
Properties
Name
Command Input
Properties
Name
Command Input
Properties

Energy Drain
+

Uses 500 power on contact
Restores Life

Name
Command Input
Properties
Name
Command Input
Properties
Name
Command Input
Properties
Hypers
Name
Command Input
Properties
Name
Command Input
Properties
Name
Command Input
Properties
Name
Command Input
Properties
Name
Command Input
Properties
Name
Command Input
Properties
Name
Command Input
Properties
Name
Command Input
Properties
Name
Command Input
Properties
Name
Command Input
Properties

Red Earth Assault
Leaves character with 1 Life if opponent isn't KO'd
Uses 3000 power
Videos