Hulk
Talk

0
4,047pages on
this wiki

The Incredible Hulk is a famous Marvel superhero that has super strength. He is different from the others because he turns green and gains his power when he gets angry. Hulk's storyline began when a man named Doctor Banner tried to replicate the "Super Soldier Serum" that was previously used on Captain America, but went terribly wrong.
In M.U.G.E.N, there are various versions of Hulk that are based on his Marvel vs. Capcom 2 playstyle, or look visually similar.
Buyog's Savage Hulk
Edit

Buyog's version is different from Acey's because its moveset is from its own independent game made by the Scruffydragon team, Marvel vs DC. He has less hypers than Acey's.
Josh Geary's Savage Hulk Edit
Edit

Josh Geary edited the beta 2 version of Buyog's Savage Hulk, nerfing its attacks, adding new palettes and changing the Attack stat from 100 to 110. He later updated his edit, adding more palettes, a new icon, new sounds, win quotes, and a Melty Blood: Actress Again portrait.
MGMURROW's Version
Edit
This version of Hulk is custom and you can change the difficulty of its AI. His attacks are very unpredictable with a lot of throws and a lot of hypers. It deals a large amount of damage, so while playing against him don't get too close to him or you'll get chained.
Acey & Kong's Hulk
Edit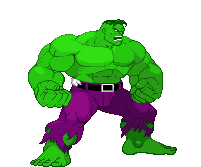 This version of the Hulk is based off the Hulk from Marvel vs Capcom 2 but the stance is custom. It contains more hypers than Buyog's version. It is voiced by SpiderMew.
Josh Geary's Demon Savage Hulk
Edit
An edit of Josh Geary's Savage Hulk, which is in turn an edit of Buyog's Savage Hulk.