This article is in need of improvement!

Brief description needs to better explain what the character is/does.
Gameplay text needs expanding and reformatting.

Please help us rectify this!
Like Satanchu's Chespin and Sudara13's Onvern, Honedge is one of the first known M.U.G.E.Nised Pokémon to originate from the sixth generation Pokémon games. This character is certainly a cheap character, as one of its Hypers doubles the damage of all but one of its attacks; was it also mentioned that this effect can stack up to three times for up to quadruple the original damage?
Honedge (

Honedge

)



Creator

Janeco

Download

Resolution

High
Gameplay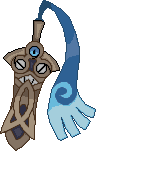 Honedge is a three-button character, using the (A)

, (B)

 and (C)

buttons for attacking. Sword-wielders and characters with sword-based attacks are known throughout the M.U.G.E.N community for having infinite priority on such sword-based attacks, Honedge is no exception, though the fact that its body is the sword makes it less excusable. Practically all of its attacks have infinite priority, have the character completely invincible, or are unblockable, making it very difficult to take down/land a hit on. Its A.I. follows a very noticeable pattern, most of the time it runs away from the opponent and either spams its long-ranged attack that thrusts a black sword upwards from beneath the opponent, or (if it has enough power) uses Swords Dance to sharply increase its Attack, making it even harder to take down; it also tends to guard a lot.
Stats
Movelist
Hovering the mouse cursor over the Command Input icons will display text that refers to the inputs set in M.U.G.E.N's Key Config.
Icons encased in square brackets [

] require the respective button(s) to be held down. Hovering the mouse cursor over the icon displays the hold duration if applicable.
Specials
Name
Command Input
Properties
Name
Command Input
Properties
Name
Command Input
Properties

Renzoku
(Fury Cutter)

*
Name
Command Input
Properties
Hypers
Name
Command Input
Properties
Name
Command Input
Properties

Tsuruginomai
(Swords Dance)

Uses 1000 Power
Palette Gallery
| | | |
| --- | --- | --- |
| | | |
| honedge1 | honedge2 | honedge3 |
| | | |
| honedge4 | honedge5 | honedge6 |
| | | |
| honedge7 | honedge8 | honedge9 |
| | | |
| honedge10 | honedge11 | honedge12 |
Victory quotes
This character does not have any victory quotes, meaning it uses the screenpack's default.
Videos
Edits
This character has not been edited.