Hogan's Alley



Creator

Magma Dragoon MK-II
N1000sh

Download

Animated

Yes

Music

Yes

Super Jump

Yes

Resolution

Low
Hogan's Alley is a classic lightgun NES game, where you must shoot panels representing criminals and avoid shooting the panels representing civilians. In M.U.G.E.N, this stage has been made two times, one by Magma Dragoon MK-II and another by N1000sh
Magma Dragoon MK-II's version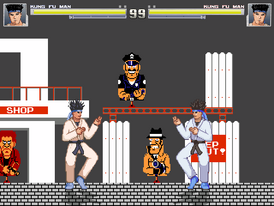 This version has a gray background and the targets are animated.
Background Music
The background music used in this version is the Title Theme from Hogan's Alley.
N1000sh's version
This version has black background. The targets in this version are randomly chosen and if the target shows a criminal, an animation plays of it being shot. Some of these targets move into the stage. This version includes a alteration of this stage compatible with the M.U.G.E.N 1.1 zoom effect.
Background Music
The background music used in this version is one remix of Hogan's alley theme used in the NDS game: Wario Ware Touched
Videos