Haruka Kutuna



Creator(s)

nuuType

Download

Origin

Vanguard Princess
Haruka Kutuna was taught growing up the path of the sword, yet recently took a strong interest in magic. Shortly after this she was abducted into a government research facility and given high magical attributes. She enters the fight to save an old friend of hers.
In M.U.G.E.N, Haruka Kutuna has been made by nuuType.
Gameplay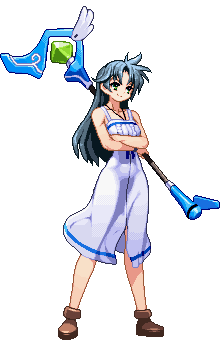 Haruka Kutuna is a character with hi-res and smoothly animated sprites, like all Vanguard Princess characters, and shares the same Reflect mechanic and the same assist characters that follow them around. Although she is a bit clunky to use, some of her attacks are exceptionally powerful and cover large amounts of the screen. This makes it easy to simply spam lasers across the screen to eliminate most opponents, making her arguably a cheap character, however, her larger size than most characters can make reaching the optimal distance to do this a bit troublesome.
Stats
Videos
Ad blocker interference detected!
Wikia is a free-to-use site that makes money from advertising. We have a modified experience for viewers using ad blockers

Wikia is not accessible if you've made further modifications. Remove the custom ad blocker rule(s) and the page will load as expected.