Hakumen



Creator(s)

Jeff Loco
Speedy9199

Download

Origin

BlazBlue
Hakumen is a character that first debuts in BlazBlue: Calamity Trigger. He is one of the Six Heroes. Hakumen is Jin occupying a Susanno Unit (his apparel) that formerly belonged to Hazama (a.k.a. Yuki Terumi.) His personality is cold sometimes. He is serious about achieving his own vision of justice and ridding the world of corruption. After fighting the Black Beast, Hakumen was sealed into the Boundary by the common people until Sector 7 scientists discovered him there. Later he was retreived from the Boundary and later went to Kagutsuchi to seal his fate and deal with Ragna the Bloodedge and Nu-13 at the Sheol Gate.
In M.U.G.E.N, Hakumen has been made two times by Jeff Loco and Speedy9199.
Gameplay (Speedy9199)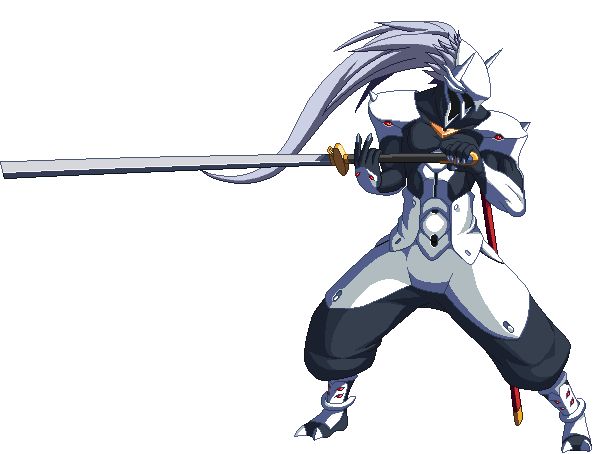 Hakumen will utilize his Specials and Hypers and rush at the player a barrage of simple attacks. Nevertheless, his disadvantage is that he moves at a slow pace and can be an easy target for rapidly moving characters. When playing as him, due to his slowness he can be taken advantage of and be juggled easily. In order to compensate for this, he can evade by somersaulting the opponents attacks, however the timing must be critical and at the right time.
Stats
Movelist
Hovering the mouse cursor over the Command Input icons will display text that refers to the inputs set in M.U.G.E.N's Key Config.
Icons encased in square brackets [

] require the respective button(s) to be held down. Hovering the mouse cursor over the icon displays the hold duration if applicable.
Palette Gallery
Videos