Guts



Creator(s)

OGGY

Download

Origin

Berserk
Guts is the main protagonist of the Berserk anime and manga series.
In M.U.G.E.N, he was created twice by OGGY.
Gameplay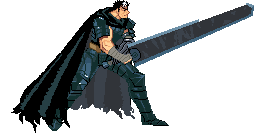 His sword is insanely long, giving him unfair reach in his attacks. His special moves make good use of this. He also comes equipped with plenty "unblockable" and unavoidable moves. Many of his Hypers are near insta-kills for characters that have normal Defence or Life. This character was meant to be played, as he is very easy to use, and is a pain to fight against (it is not recommended for beginners to fight him, as he has many invincibility frames, and his A.I. as such makes good use of them, preventing him from taking damage).
Stats
Movelist
Hovering the mouse cursor over the Command Input icons will display text that refers to the inputs set in M.U.G.E.N's Key Config.
Icons encased in square brackets [

] require the respective button(s) to be held down. Hovering the mouse cursor over the icon displays the hold duration if applicable.
Specials
Name
Command Input
Properties

| | | |
| --- | --- | --- |
| Roll | + | |
Name
Command Input
Properties

| | | |
| --- | --- | --- |
| Anti-Air Attack | | |
Hypers
Name
Command Input
Properties

| | | |
| --- | --- | --- |
| TripleKFPalm | | Uses 1000 Power |
Name
Command Input
Properties

| | | |
| --- | --- | --- |
| Arm Cannon | | Uses 1000 Power |
Name
Command Input
Properties

| | | |
| --- | --- | --- |
| Zodd Assist | | Uses 2000 Power |
Name
Command Input
Properties

| | | |
| --- | --- | --- |
| Skull Knight Assist | | Uses 2000 Power |
Name
Command Input
Properties

| | | |
| --- | --- | --- |
| Schierke Assist | | Uses 2000 Power |
Name
Command Input
Properties

| | | |
| --- | --- | --- |
| Berserk Armor | | Uses 3000 Power |
Videos