Gurospooo



Creator(s)

Souken

Download

Origin

Original
Gurospooo is a rather disturbing character which has the innate ability to send its opponents to hell. While bearing a different name, this character is derived from a Japanese meme called Devil Spoo, which in turn is based off a poor drawing of Spoo, the main character from the Japanese children's TV program Okaasan to Issho, with the drawing being created by one of the TV program's main presenters.
When in-game, Gurospooo initially appears as Spoo himself, before devouring a female character and turning into Gurospooo. Its disturbing nature escalates after one of his hyper attacks have been activated, causing all its attacks to become exceedingly violent and disturbing. Most of this character's attacks revolve around consuming characters and morphing its thin limbs into powerful appendages.
In M.U.G.E.N, Gurospooo was made by Souken.
Gameplay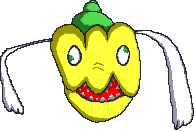 Gurospooo is a four-button character, with a button layout identical to Kung Fu Man, due to it being a careful edit of said character. This character is not particularly agile, especially not when closing in on its opponent, as its walking speed is quite slow. Most of Gurospooo's attacks involve transforming its arms into weapons, using the body parts of souls, or outright eating the opponent. All of its attacks after its level 3 has been used become highly unsafe for working environments, simply due to their disturbing nature.
Other than the unnerving imagery of its attacks, Gurospooo's moveset is rather unremarkable. It cannot combo well, and only a few specials deal a reliable amount of damage. One redeeming feature of this character is its ability to switch around its moveset when it uses its level 3 hyper, essentially making Gurospooo two characters in one. When in this state, this character's attacks are much more powerful and harder to avoid. Not only that, but the lifebars will also dissapear from view, putting human players at a slight disadvantage.
Gurospooo's A.I. is somewhat challenging. It will try to use a few specials to lock the foe in place when at a distance, and resort to its powerful grab when at close range. It will use its level 3 hyper whenever it can.
Stats
Movelist
Hovering the mouse cursor over the Command Input icons will display text that refers to the inputs set in M.U.G.E.N's Key Config.
Icons encased in square brackets [

] require the respective button(s) to be held down. Hovering the mouse cursor over the icon displays the hold duration if applicable.
Videos