An incredibly lazy excuse for a character that is unable to satisfy in either the gameplay or graphics department. With no Specials, no Hypers and no combos outside of infinites, this Greninja doesn't need to be nerfed to be bad.
Greninja (

Greninja

)



Creator

Download

Resolution

High
Gameplay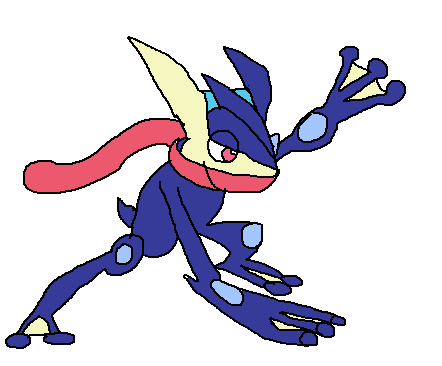 As with Alerkina4's other characters, Greninja is a spriteswap, with the victim this time being Winnie The Pooh; just like Winnie, Greninja is a 4-button character that lacks any Special or Hyper attacks, having only the bare minimum for a 4-button character. It also lacks any form of comboing outside of walking infinites.
Past the 41 sprites, lack of attacks and static, jumpy animations, Greninja's hitboxes are highly unoptimised to the point of there being redundant hitboxes inside other hitboxes, though these are likely the hitboxes of the character Greninja is a spriteswap of.
Greninja's A.I. uses the engine's default A.I., meaning Greninja simply blocks a lot, jumps around the stage and attacks at random intervals.
Stats
Movelist
This character does not have any Special or Hyper Attacks.
Palette Gallery
| | | |
| --- | --- | --- |
| | | |
| greninja | red | lickitung (Lickitung's colours) |
| | | |
| shiny (Shiny colours) | ichigo (Ichigo Kurosaki's colours) | mewtwo (Mewtwo's colours) |
| | | |
| darkrai (Darkrai's colours) | dialga (Dialga's colours) | palkia (Palkia's colours) |
| | | |
| giratina (Giratina's colours) | deoxys (Deoxys' colours) | |
Victory quotes
This character does not have any victory quotes, meaning it uses the screenpack's default.
Videos
Edits
This character has not been edited.