Don't cry, Kung Fu Man

This article is missing images or animations, or is in need of new or updated images or animations for the following reason(s):

For all attacks

Please help the MUGEN Database by uploading an image for this article.
Greenman



Creator(s)

Veanko

Download

Origin

Original
Greenman is a green stickman with a white head.
In M.U.G.E.N, Greenman has been made once by Veanko.
Gameplay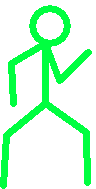 Greenman is a 6 button character (5 if you exclude (A)

that activates power charge) that is able to rack up fairly high combos. Greenman also has two special palettes called Goldman and Shadowman. Goldman has healing powers, while Shadowman has full power all the time.
Movelist
A patch was released for Greenman that simplifies his commands. The following movelist uses these simplified commands.
Hovering the mouse cursor over the Command Input icons will display text that refers to the inputs set in M.U.G.E.N's Key Config.
Icons encased in square brackets [

] require the respective button(s) to be held down. Hovering the mouse cursor over the icon displays the hold duration if applicable.
Specials
Name
Command Input
Properties

| | | |
| --- | --- | --- |
| Bouncy leap |   | version: uses 500 power |
Name
Command Input
Properties

| | | |
| --- | --- | --- |
| Charge |   | version: uses 500 power |
Name
Command Input
Properties

| | | |
| --- | --- | --- |
| Shazam! |   | version: uses 500 power |
Name
Command Input
Properties

| | | |
| --- | --- | --- |
| Bow | | version: uses 500 power |
Hypers
Name
Command Input
Properties

| | | |
| --- | --- | --- |
| Big gun |  + | Uses 1000 power |
Name
Command Input
Properties

| | | |
| --- | --- | --- |
| Takin a poop | + | Uses 1000 power |
Name
Command Input
Properties

| | | |
| --- | --- | --- |
| Greenball | | Uses 2000 power |
Name
Command Input
Properties

| | | |
| --- | --- | --- |
| Whats for dinner? |   | Uses 3000 power |
Videos