Green Lantern Lucario



Creator(s)

SpiderMew

Download

Origin

Edit of Lucario
Green Lantern Lucario is a Lucario who wields the ring (and therefore the power) of the Green Lantern.
His appearance is somewhat different from a regular Lucario; he has a dark grey chest, the "Green Lantern" symbol wrapped around the spike in the center of his chest, a white tail instead of his usual greyish-blue tail, and most notably all of his blue parts are now green with the exception of his head which remains blue, but suited with a trademark Green Lantern mask. He is also shown to have a green lightning-like effect shooting from head-to-toe and a green glowing outline around him.
In M.U.G.E.N, Green Lantern Lucario has been made by SpiderMew. It is an edit of Ðshiznetz's Lucario and is missing a lot of sprites, (this version was only an alpha and an update has yet to be released). Due to its excessive attack and defence stats, it's very powerful and durable.
Gameplay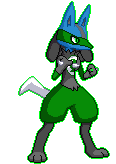 Green Lantern Lucario is a 6-button character with overly bloated attack and defence stats. It has no trouble taking down the average character because of these stats, as it barely takes any damage and deals out tremendous amounts of damage without even needing to combo.
Stats
Movelist
Hovering the mouse cursor over the Command Input icons will display text that refers to the inputs set in M.U.G.E.N's Key Config.
Icons encased in square brackets [

] require the respective button(s) to be held down. Hovering the mouse cursor over the gap displays the hold duration if applicable.
Palette Gallery
Videos
Ad blocker interference detected!
Wikia is a free-to-use site that makes money from advertising. We have a modified experience for viewers using ad blockers

Wikia is not accessible if you've made further modifications. Remove the custom ad blocker rule(s) and the page will load as expected.