Goro is a character from the Mortal Kombat series, who made his debut in the first Mortal Kombat game as the game's sub-boss.
Goro is a four-armed Shokan warrior who had been the champion of the Mortal Kombat tournament for nine generations. Favored by Shao Kahn, Goro's power and brutality was a major asset to his planned conquest of Earthrealm through the Mortal Kombat tournament. He remained undefeated for 500 years until he was finally defeated by Liu Kang.
In M.U.G.E.N, Goro has been made by OMEGAPSYCHO and Gorjeador.
OMEGAPSYCHO's version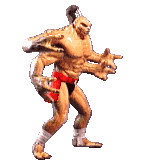 Goro is a difficult player as he has high damage moves and an advanced A.I., making him a challenging opponent. While largely faithful to his original Mortal Kombat appearance, the damage has been toned down significantly for balance purposes.
Movelist
Hovering the mouse cursor over the Command Input icons will display text that refers to the inputs set in M.U.G.E.N's Key Config.
Icons encased in square brackets [

] require the respective button(s) to be held down. Hovering the mouse cursor over the icon displays the hold duration if applicable.
Special
Name
Command Input
Properties
Name
Command Input
Properties
Name
Command Input
Properties
Name
Command Input
Properties
Name
Command Input
Properties
Name
Command Input
Properties
Name
Command Input
Properties
Fatalities
Name
Command Input
Properties
Name
Command Input
Properties
Videos