SEVERE WARNING!
This article contains information about a character or stage with animations that may trigger seizures in readers with photosensitive epilepsy. It is strongly advised that you do not download this character/stage or continue reading this article if you are prone to seizures.
This article is in need of improvement!

Brief description needs expanding.
Movelist and gameplay sections need to be updated to reflect the most recent version.

Please help us rectify this!
Many people may have wondered at some point in their lives what would happen if Goku took steroids. Filled to the brim with infinites, this seems to be the most accurate answer.
Goku (

Goku

)



Creator

AxKing*

Download

Resolution

Low
Gameplay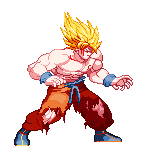 AxKeeper's Goku has been released three times; once without any special moves, again with only one special move, and the third and most recent release features the Saiyan with four special moves and a super. Although made by Ax, it is credited to Akira Toriyama. The sprites use Alex from Street Fighter 3 as a base and the hair of SSJ Goku Z2.
Like many of Axking's other characters, this character has a plethora of infinites. (Y)

, (B)

, (C)

, and all of its specials can infinitely trap the opponent if used quickly in succession. In addition, its A.I abuses its broken aspects, and the sprites, while looking visually appealing, aren't accurate to Goku's appearance in any official media. To put the icing on the cake, its specials and hyper are incredibly flashy, with the potential to be an epilepsy trigger.
Stats
Movelist
Hovering the mouse cursor over the Command Input icons will display text that refers to the inputs set in M.U.G.E.N's Key Config.
Icons encased in square brackets [

] require the respective button(s) to be held down. Hovering the mouse cursor over the icon displays the hold duration if applicable.
Specials
Name
Command Input
Properties
Name
Command Input
Properties
Name
Command Input
Properties

| | | |
| --- | --- | --- |
| Head Smash | | |
Name
Command Input
Properties

| | | |
| --- | --- | --- |
| Energy Pulse | | |
Hypers
Name
Command Input
Properties

| | | |
| --- | --- | --- |
| Kamehamewave | | Uses 1000 power |
Palette Gallery
Victory quotes
General
Videos
Edits
This character has not been edited.