HOLD ON!
There are versions of this character available that don't have their own branch articles!
Please help us document the following:
Gill



Creator(s)

GM

Oldest version

Kong's version (2008)

Newest version

Froz's version (2014)

Origin

Street Fighter III
Gill is the main antagonist and final boss of Street Fighter III: New Generation.
He is the leader of a mysterious cult-like organization called the Illuminati. Because of the experiments performed on him by the Illuminati in his youth, Gill's body is separated into two symmetrical halves, a red and a blue one. The red half of his body allows him to control fire, while the blue half grants him control over ice. Gill's immense power comes not only from those elements, but also, and mostly, of how perfectly balanced they are in his body.
Gill's most unique trait as a character is that when he turns, he actually turns in the same way that a real person would, instead of merely having his sprite flipped. His attacks also have different particle effects depending on which side of the screen he is facing.  This was designed to show off the very high graphics processing ability (for the time) of Capcom's CPS-3 arcade board.
In M.U.G.E.N, Gill was made several times.
GM's version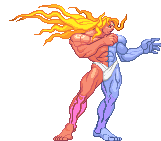 The mark of its dignity will indeed scar the DNA of those who go against it, as this version of Gill is source accurate to Street Fighter 3. That being said, Gill is an easy candidate for a boss-tier character.