Giga Bowser
Talk

0
3,130pages on
this wiki
Giga Bowser

Giga Bowser in MUGEN.

Creator(s)

Shazzo

Cyberlizard (Edit)

Lord Orga (Edit)

Download

Shazzo (Original) - [unavailable]

Cyberlizard's Edit - [1]

Lord Orga's Edit - [2]

Origin

Super Smash Bros Melee

Giga Bowser is the transformation of Bowser as first seen (as a boss) on Super Smash Bros Melee and again (as Bowser's Final Smash) on Super Smash Bros Brawl. His appearance is so fierce, it's as if he doesn't even belong in the Smash Bros. universe. In MUGEN, he is a altered version of Shazzo's Bowser but his apperance has been altered to look like Giga Bowser.
Just like Shazzo's Bowser, he is a cheap character, however to fit around Giga Bowser he has increased the defense and attack damage to him making more difficult than his normal Bowser. His attacks can take large chunks of damage from a normal player and his supers can deal so much damage, it can KO a player almost instantly. As for his defence, it can resist a lot more damage than normal characters, even being able to survive most supers which would normally do massive amounts of damage to players.
Key
D = Down
F = Right
B = Left
DB = Down-left
DF = Down-right
A/B/C = Punch
X/Y/Z = Kick
Small flamethrow - D, DF, F, X

Medium flamethrow - D, DF, F, Y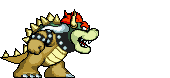 Large flamethrow - D, DF, F, Z

LVL 1 Giga Blast - D, DF, F, X+Y/X+Z/Y+Z

Giga Inferno - D, DF, F, A+B/A+C/B+C
Other edits
Edit
Lord Orga's edit of this Giga Bowser has made him cheaper than normal, giving him an armor state for increased defense, making him unflinchable and just as hard to defeat as Kozeni's Bagan, along with a little change-up of some of his moves.