George Ushiromiya



Creator(s)

Yu-Toharu

Download

Origin

Legend of the Golden Witch
George Ushiromiya is a character that first appears in The Legend of the Golden Witch. He is the older cousin of Battler Ushiromiya and Jessica Ushiromiya. He is the son of Hideyoshi and Eva Ushiromiya. He often acts as the peace maker in his family and is an apprentice in his father's company.  
In M.U.G.E.N, George Ushiromiya has been made once by Yu-Toharu. 
Gameplay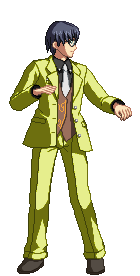 George is a six buttoned character that is melee oriented. His move list consists of punches and many kick based attacks. His Metaworld ability is Patience, which increases the amount of power he gains from blocking attacks, and allows him to automatically gain power when blocking.
His is AI is fair and can be beat by novices. 
Stats
Movelist
Hovering the mouse cursor over the Command Input icons will display text that refers to the inputs set in M.U.G.E.N's Key Config.
Icons encased in square brackets [

] require the respective button(s) to be held down. Hovering the mouse cursor over the icon displays the hold duration if applicable.
Palette Gallery
Videos