HOLD ON!
There are versions of this character available that don't have their own branch articles!
Please help us document the following:
Ganondorf



Creator(s)

Various

Oldest version

Unknown

Newest version

sumin2393's version (2016)

Origin

The Legend of Zelda
Ganondorf Dragmire is the original humanoid form of Ganon, the King of Evil, and the primary antagonist of the Legend of Zelda series. He was first mentioned in A Link to the Past as part of Ganon's backstory, but did not make an actual appearance in the series until Ocarina of Time. He has gone on to be the main antagonist in almost every game since.
Ganondorf is the physical incarnation of Demise's hatred, born to the Gerudo race some time after Demise's death. Since the Gerudo is a female-only race which only has one male born every 100 years, he was named the King of the Gerudo according to their tradition. He then makes his way to Hyrule, feigning allegiance to the King, until he was able to obtain the Triforce of Power from the Temple of Time's entry to the Sacred Realm, using his newfound power to take over Hyrule.
In M.U.G.E.N, Ganondorf has been created by various creators.
BaganSmashBros' version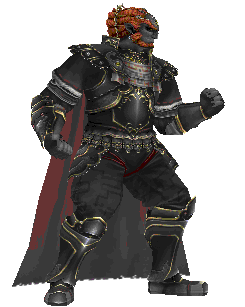 Stated to be in a beta state, this version of the prince of darkness uses hi-res animations from Super Smash Bros. Brawl and has five Specials and one Hyper. It uses the DC vs. Marvel template.
Ad blocker interference detected!
Wikia is a free-to-use site that makes money from advertising. We have a modified experience for viewers using ad blockers

Wikia is not accessible if you've made further modifications. Remove the custom ad blocker rule(s) and the page will load as expected.