Gabriel



Creator(s)

TONY ADV

Download

Origin

Bastard!!
Gabriel is one of the Seraphim and a character from the manga Bastard!!.
A level 300000 angel, she was captured by the demons for an extremely long period of time, and ultimately freed by the manga's protagonist, Dark Schneider.
In M.U.G.E.N, Gabriel has been made once by TONY ADV.
TONY ADV's version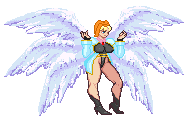 Gabriel is a six-button character with a variety of abilities that are slightly unfair, such as a projectile that stuns if not blocked and is fully capable of doing so even if the opponent is in midair. This can cause glitches with some other characters, and is extremely cheap if spammed, essentially stunning the opponent forever. Her moveset is slightly limited in application and actually quite balanced with the exception of the stunning projectile, making it likely that its' nature as an infinite is an error on the creator's part. Her Hypers, while very powerful under the right circumstances, are able to be blocked to negate their damage. Her level 1 Hyper is capable of missing entirely, as well, but as she gains power at a good pace, this is less of an issue than it would first seem.
Gabriel's A.I. is a bit weak, and does not abuse the broken aspects of the character.
Stats
Videos