This version of Foxy was made in a boss style like Apocalypse. Unlike Apocalypse however, this character can be thrown, resulting in several bugs.
Foxy (

Foxy The Pirate Fox

)



Creator

Adrian

Download

Resolution

Low
Gameplay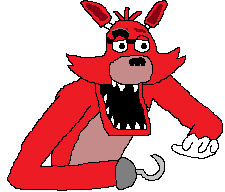 Adrian's Foxy uses four buttons, (X)

, (A)

, (Y)

and (B)

, but they all do the same move: a powerful downwards slam. The hitboxes are very poor, using several where there could have been just one. Being thrown causes several game breaking bugs, such as falling through the floor or disappearing entirely. If the character's (X)

range is far enough, it can repeatedly counter any move that Foxy can do. Its laser and hook drill do insane amounts of chip damage, as if the attack wasn't blocked.
Adrian has since updated the character with several frames of invincibility.
Stats
Movelist
Hovering the mouse cursor over the Command Input icons will display text that refers to the inputs set in M.U.G.E.N's Key Config.
Icons encased in square brackets [

] require the respective button(s) to be held down. Hovering the mouse cursor over the icon displays the hold duration if applicable.
Specials
Name
Command Input
Properties
Name
Command Input
Properties
Name
Command Input
Properties
Palette Gallery
| | | |
| --- | --- | --- |
| | | |
| Pal1 | Pal2 (Mangle's colours) | Pal3 |
| | | |
| Pal4 | | |
Victory quotes
General
"

No one can't stop me for enjoying my entertaiment.

"
"

Muahahahahahahahahahahahahahahahahahahaaaaarrr!!!!

"
"

I'm bigger than you little man!

"
Videos
Trivia
Foxy's second palette is based on The Mangle, which is Foxy's "toy" counterpart in Five Nights at Freddy's 2.
Edits
This character has not been edited.
Ad blocker interference detected!
Wikia is a free-to-use site that makes money from advertising. We have a modified experience for viewers using ad blockers

Wikia is not accessible if you've made further modifications. Remove the custom ad blocker rule(s) and the page will load as expected.