HOLD ON!
There are versions of this character available that don't have their own branch articles!
Please help us document the following:

ighost design's first version
ighost design's second version
Foxy



Creator(s)

Various

Oldest version

Ivan Luiz's version (2014)

Newest version

MEGA X's version (2017)

Origin

Five Nights at Freddy's
Foxy (also known as Foxy the Pirate) is one of the main antagonists from the Five Nights at Freddy's independent video game series of horror games. He is an animatronic fox dressed as a pirate that resides at the Pirate Cove location of the restaurant in the first game, the Parts/Service room, along with the other old animatronics, in the second game, and as both a prop for Fazbear's Fright and a Phantom Animatronic (which is referred to as Phantom Foxy) in the third game.
In all entries of the series, Foxy is shown to be cunning and quick like an actual fox, often giving the player little or no time at all to react to his actions; in the first game, if Foxy has left Pirate Cove, his starting area, he will begin to sprint towards the office, giving the player a very small time window in which to close the left door, though if the player does close the door, he will proceed to bang on it, draining some of the building's power in the process. In the second game, Foxy frequently appears at the opposite end of the hallway outside of the office, he is not fooled by the Freddy Fazbear Head and will lift it up when he attacks, leaving the only method of ridding him being to shine the flashlight in his face five times. Although the Foxy from the previous games doesn't actually appear in the third game, a variant of Foxy known as Phantom Foxy will randomly appear in the office and jumpscare the player, disabling the ventilation systems; another variant of Foxy exists in the fourth game under the name of Nightmare Foxy, who is a Nightmare variant of the original Foxy. Nightmare Foxy hides in the player's closet and will jump out and kill the player if not he is not managed on a regular basis.
In M.U.G.E.N, Foxy has been made by various creators.
Ivan Luiz's version
Made using a custom model and Garry's Mod, this version is essentially Kung Fu Man if it was an animatronic fox. Perhaps on behalf of the creator being lazy, Foxy will turn into an incredibly small Kung Fu Man when put into custom states.
Adrian's version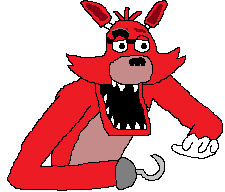 This version of Foxy was made in a boss style like Apocalypse. Unlike Apocalypse, however, this character can be thrown, resulting in several bugs.