Eva Beatrice



Creator(s)

SXVector

Download

Origin

Banquet of the Golden Witch
Eva Beatrice is a character that appears in Banquet of the Witch. She symbolizes Eva Ushiromiya's young and greedy side. This form of Eva became The Endless Witch after she solved the epitaph in the Ushiromiya mansion and found the gold in the lower level. Beatrice bestowed her powers and passed on her title to the young Eva. Despite having high intellect in regards of being a witch, due to her cruelty and sadistic tendencies, she would kill her own relatives by summoning the Chiester Sisters. Ange Ushiromiya viewed her as a black witch and is later killed by her.     
In M.U.G.E.N, Eva Beatrice has been made once by SXVector. 
Gameplay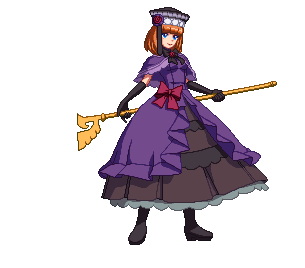 Eva Beatrice has a passive AI which does not attack. She is a four button character that uses her staff often and often kicks. She has a few magical attacks that can pull the opponent toward her and these have varying strength. She has a two supers that pack on devastating combos with. She has one super where she dumps a pile of cakes on her opponent with sufficient damage. However, she has a special ability called Berserk which increases her damage and this can be make her a fatal character to with play with.   
Stats
Movelist
Hovering the mouse cursor over the Command Input icons will display text that refers to the inputs set in M.U.G.E.N's Key Config.
Icons encased in square brackets [

] require the respective button(s) to be held down. Hovering the mouse cursor over the icon displays the hold duration if applicable.
Palette Gallery
| | | |
| --- | --- | --- |
| | | |
| EvaBeatrice (Original Colors) | EvaBeatrice-player2 | EvaBeatrice2 |
| | | |
| EvaBeatrice3 | EvaBeatrice4 | EvaBeatrice5 |
| | | |
| EvaBeatrice6 | EvaBeatrice7 | EvaBeatrice8 |
| | | |
| EvaBeatrice9 | EvaBeatrice10 | EvaBeatrice11 (Yukari Yakumo's Colors?) |
Videos