Eri Hasumi



Creator(s)

ZSM

Download

Origin

Vanguard Princess
Eri Hasumi is an elite soldier created by The Government. She's a girl that possesses superhuman strength and physical endurance. She escapes from The Government's Research Facility in order to seek freedom, and is now being pursued by Luna Himeki.
In M.U.G.E.N, Eri Hasumi has been made by ZSM.
Gameplay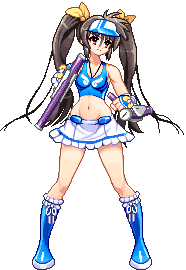 Eri is a character who fights only of melee, she has only a single Super who costs her entire energy but her power bar reloads fast every time it strikes her opponent. She attacks together with a assist among 4 others chooses before the match, the player can use the attacks of the assist by using (A)

and the direction arrows (as long as the support bar at enough level, she reloads automatically but decrease if she is hit during guarding), furthermore she cannot be hurt by the opponent.
It exists 2 different types of palettes, "Original" and "Arrange" (she has a tanned skin or golden hairs). With the palette Arrange, he can perform combos a bit more faster and can spent next to her opponent in making a roll if the player press

+(X)

+(Y)

or

+(B)

.
Her A.I. is brutal, even in spamming projectiles does not work against she (because she constantly blocks and her assist countered the projectile, which does not hurt Eri).
Stats
Movelist
Hovering the mouse cursor over the Command Input icons will display text that refers to the inputs set in M.U.G.E.N's Key Config.
Icons encased in square brackets [

] require the respective button(s) to be held down. Hovering the mouse cursor over the icon displays the hold duration if applicable.
Specials
Name
Command Input
Properties
Name
Command Input
Properties

| | | |
| --- | --- | --- |
| Smash Beads | | Press for additional attacks, can be repeated up to 3 times |
Name
Command Input
Properties
Name
Command Input
Properties
Hypers
Name
Command Input
Properties

| | | |
| --- | --- | --- |
| Stinger Raid | + | Uses 3000 Power |
Assists
Glitch
With Eko as assist: Sometimes, the effect's sprites of the Eko's Charm Bullet (a pink lightning) appears if Eri hit her opponent with her weak blow.
Videos