Edward Stephano is a self-insert character of Yuranto70, a YouTuber and M.U.G.E.N creator.
In M.U.G.E.N, Edward was made by Yuranto70 himself. The character has gone through a total of four design changes and two name changes, starting out as a Daniel clone under the name of Yuranto Johnson, then becoming a sprite edit of Reese Yammoto, only to go back to being a Daniel clone before finally settling on the use of custom sprites for its later iterations, eventually gaining the surname Stephano before his first name was changed from Yuranto to Edward. His current design looks suspiciously similar to K', another glove-wearing, fire-using character.
Yuranto70's third version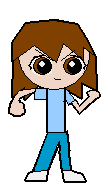 Yuranto Johnson is a very basic character, with simple moves such as a hyper combo and a Shun Goku Satsu. He is relatively overpowered, with many of his other hypers tending to take out nearly half of the opponent's life, and is somewhat based on the popular doujin game, Eternal Fighter Zero.
Stats
Movelist
Hovering the mouse cursor over the Command Input icons will display text that refers to the inputs set in M.U.G.E.N's Key Config.
Icons encased in square brackets [

] require the respective button(s) to be held down. Hovering the mouse cursor over the icon displays the hold duration if applicable.
Specials
Name
Command Input
Properties
Name
Command Input
Properties

| | | |
| --- | --- | --- |
| Double Fire Strike | | Uses 500 Power |
Name
Command Input
Properties
Name
Command Input
Properties
Name
Command Input
Properties
Hypers
Name
Command Input
Properties

| | | |
| --- | --- | --- |
| orah orah orah | | Uses 1000 Power |
Name
Command Input
Properties

| | | |
| --- | --- | --- |
| Kick Smash | | Uses 1000 Power |
Name
Command Input
Properties

| | | |
| --- | --- | --- |
| Super Fire Strike | | Uses 1000 Power |
Name
Command Input
Properties

| | | |
| --- | --- | --- |
| ORA ORA ORA | | Uses 2000 Power |
Name
Command Input
Properties

| | | |
| --- | --- | --- |
| POW ha ha | | Uses 2000 power |
Name
Command Input
Properties

| | | |
| --- | --- | --- |
| Rapid-Fire Fists of Death | | Uses 3000 Power |
Name
Command Input
Properties

| | | |
| --- | --- | --- |
| Shun Yuranto satsu | | Uses 5000 Power |
Videos